Regulate

HIBUN Device Control

HIBUN Device Control manages usage of devices and network connections to
regulate
the transit of the confidential data.
Feature
Device Control
Control usage of various devices, such as smartphone and removable media and network connection, for each PC to prevent employees unauthorized copy of data.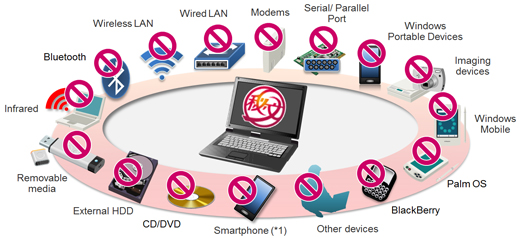 *1 When a Smartphone is connected to a PC, it is recognized as several different devices depends on the difference by manufacturers and connection mode. By managing all these devices, HIBUN can completely prohibit copying data to Smartphones.
Wi-Fi connection control
Employees would use tethering from individual smartphone and try to bypass the corporate network security like web filtering to use cloud services. HIBUN prohibits such an inadequate networking.

PC lock function
PC is locked and become disabled when it cannot be connected to the permitted network. For example, administrator can make PC only available inside the factory with this function. *2

*2 HIBUN Date Encryption encrypts data in the PC so that confidential data is protected more robustly.
Operating Environment
OS
One of the following operating systems is required to run the HIBUN Device Control. #1
Microsoft Windows 7 Home Premium (Service Pack 1) #2
Microsoft Windows 7 Professional (Service Pack 1) #2
Microsoft Windows 7 Ultimate (Service Pack 1) #2
Microsoft Windows 7 Enterprise (Service Pack 1) #2
Windows 8
Windows 8 Pro
Windows 8 Enterprise
Windows 8.1 (no update or Update) #3
Windows 8.1 Pro (no update or Update) #3
Windows 8.1 Enterprise (no update or Update) #3
Windows 10 Pro #4
Windows 10 Enterprise #4
CPU
Windows 7: Intel Core Duo 1.66 GHz equivalent or higher.
Windows 8, Windows 8.1, Windows 10: in line with the operating system you currently possess.
Mounted memory
32 bit OS: At least 1 GB (Greater than 2GB is recommended).
64 bit OS: At least 2 GB (Greater than 4GB is recommended).
Hard disk (system drive) space
• When not using output function for malware tracking log


At least 365 MB of free space

• When using output function for malware tracking log


At least 765 MB of free space

Other specific
requirements/prerequisites
When iKey authentication #5 is required:
 - iKey driver
#1: The 32-bit and 64-bit versions are supported.
#2: When prohibiting writing via other writing software, install the hotfixes described in Microsoft Knowledge Base (technical support information) articles 2614451 and 2800422. If the hotfixes are not installed, a problem with Windows will cause the OS to terminate abnormally when writing to CD/DVD media by using OS-standard writing (Live File System format).
#3: HIBUN Device Control cannot be installed on a PC that uses the WIMBoot function.
#4: For information about support for updates (builds), see the following site.
[Support for Windows 10 updates in HIBUN/ Restrictions of the servicing model (service option)]
#5: iKey authentication includes the following:
 - Using smart login
 - Using multistage login
 - Using iKey-based offline login