Middleware/Device Control
Lightweight, fast, and high functionality next generation cooperative vehicle communication platform, suitable for embedded systems, car navigation, cellular phone, digital consumer electronics etc.
It is possible to apply your system globally in compliant with European, American, and Japanese Standard.
Suitable for embedded environments
Lightweight, Compact implementation for embedded system
Support for multiple OS
Support for POSIX compliant system including RTOS
Support CPU
Support for multiple H/W
Support for IEEE802.11p or ARIB STD-T109 compliant H/W
Compliant with Standard
ETSI ITS standard
IEEE 1609.X standard
SAE standard
ITS Connect standard
Field Experience
ETSI Plugtests (V2X interoperability + specification compliance tests)
USDOT PlugFest (V2X interoperability + specification compliance tests)
Field Trial Experience : DriveC2X/SCORE@F/Autonet2030
* Hitachi contributes to the standardization of the V2X standard in ETSI TC ITS and C2C-CC.
Platform
Making use of "V2X Middleware Platform" enables your system to communicate with other vehicles and with infrastructure minimizing the application development cost and improving maintainability and reliability.
Based on the V2X Middleware Core part, we provide the most suitable environment for your communication platform.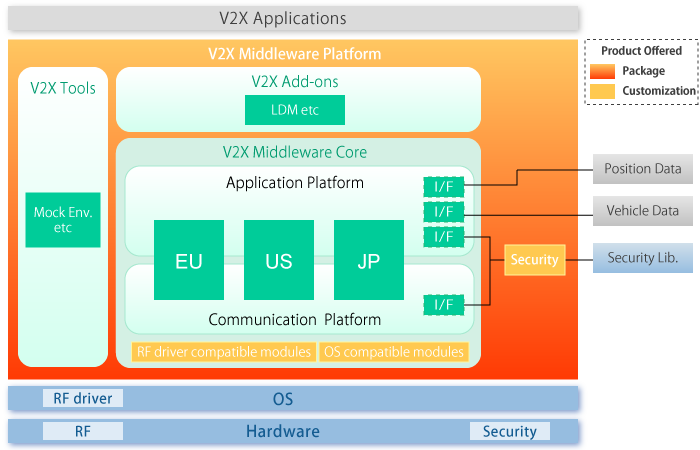 V2X Middleware Platform Product Scope
V2X Middleware Platform Main Products
| | |
| --- | --- |
| V2X Middleware Core | Vehicle-to-Vehicle and Vehicle-to-Infrastructure communication framework |
| V2X Add-ons | Application components for added-value services using V2X Middleware Platform |
Offer the following tools in V2X Middleware Platform support.
| | |
| --- | --- |
| V2X Tools | Suitable environments for verification, testing and application development |