<Data Copy Control>
Each users' data copy policy to external HDD/media, printer and network drive can be defined in detail. Also, authorities for groups, such as temporary employee, permanent employee, board members can be defined. All these configurations are consolidated to be managed by an administrator.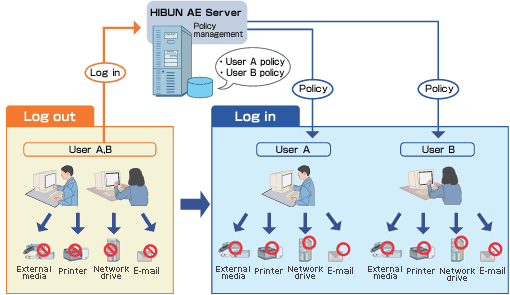 HIBUN IF Mail Option is required to control the sending of email.
<Log Acquisition>
Acquire user operation log when the data leaves from PC. Verify the event of data copy which records the time, user name, filename and others, from centralized log. The encrypted log prevent its falsification.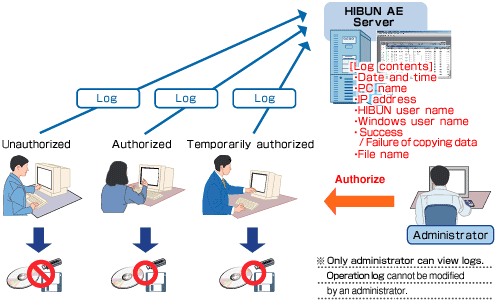 <Type-based Device Control>
Prohibit the unauthorized transfer of data via various types of devices by prohibiting the use of devices.The supportable devices are Bluetooth, Infrared ports, Wi-Fi, Serial/Parallel ports, Data linkage cables, PDAs, Smartphones and etc.
<Device-specific Control>
Restrict users to copy data only to company authorized USB memory.Administrator can check the logs for the device information of the USB memory.