Encrypt

HIBUN Data Encryption

HIBUN Data Encryption
encrypts
data on hard drive, removable media, and file server to protect the secrecy of the information.
Feature
Select the encryption type depending on the purpose
Provide proper encryption type based on usage scenes to secure business data without compromising usability.
In house use
Data on PC

Encryption performed by the drives and data is decrypted and encrypted transparently.

Data on Media

Encrypt data on media in the format for in house use. The data is exclusively viewable in the office.
Outside use

File encryption for media and email attachment
Data for outside use is encrypted as self-decrypting confidential file. It requires password for decryption. Confidential file viewer is required to decrypt self-decryption confidential file and the viewer can be downloaded here.
Enforce encryption on copying data to removable media
Only self-decrypting confidential file is permitted to be copied to removable media or CD/DVD depending on the setting. Prohibition of copy plain-text file prevents user from providing plain-text file to outside office unintentionally and reduces risk of information leakage.

Encrypt shared folders on a file server
Encrypt data shared on a file server by folders in conjunction with HIBUN file server. Encrypted data can be opened and edited only on HIBUN Data Encryption installed PCs and cannot be opened neither on Non-HIBUN PC nor on the file server itself.
Encrypted data is automatically encrypted and decrypted on HIBUN installed PCs and remains encrypted through network and during the backup.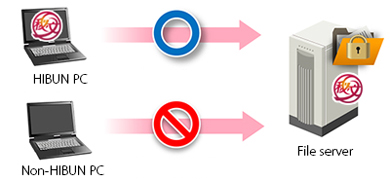 Operating Environment
OS
One of the following operating systems is required to run the HIBUN Data Encryption. #1
Windows 8
Windows 8 Pro
Windows 8 Enterprise
Windows 8.1 (no update or Update) #2
Windows 8.1 Pro (no update or Update) #2
Windows 8.1 Enterprise (no update or Update) #2
Windows 10 Pro #2 #3
Windows 10 Pro for Workstations (version 1903 or later) #2 #3
Windows 10 Enterprise #2 #3
Windows 10 IoT Enterprise (Enterprise 2019 LTSC) #2
Windows 10 Enterprise multi-session (version 2004 or later) #2 #3
Windows 11 Pro #4
Windows 11 Enterprise #4
CPU
In line with the operating system you currently possess.
Mounted memory
32 bit OS: At least 1 GB (Greater than 2GB is recommended).
64 bit OS: At least 2 GB (Greater than 4GB is recommended).
Windows 11: At least 4 GB (Greater than 8GB is recommended).
Hard disk (system drive) space
• At Installation


Greater than 180 MB

• During operation


Greater than 365 MB

Other specific
requirements/prerequisites
When log collecting feature is required:
 - HIBUN Server
When file reproduction control of none HIBUN-format media for each user is required:
 - HIBUN Server
 - HIBUN Device Control
When data reproduction log offline collecting is required:
 - HIBUN Device Control
When shared confidential folder is required:
 - HIBUN Server
When iKey authentication #5 is required:
 - iKey driver
When using eToken by eToken authentication in an environment where it is impossible to connect to the Internet #5:


- The program required for eToken must be manually installed.Please contact our company or your sales representative to learn how to acquire the program required for eToken.
#1: The 32-bit and 64-bit versions are supported. ARM version of Windows is not supported.
#2: HIBUN Data Encryption cannot be installed on a PC that uses the WIMBoot function.
#3: For information about support for updates (builds), see the following site.
[Support for Windows 10 updates in HIBUN/ Restrictions of the servicing model (service option)]
#4: ARM version of Windows is not supported.
#5: iKey or eToken authentication includes the following:
 - Using smart login
 - Using iKey/eToken authentication