HIBUN V10 Products are no longer sold after June 30 2017.
Customers who have HIBUN V10 can purchase additional HIBUN V10 licenses by end of June 2022.
Please click here to see new HIBUN products information.
Inspect policy violation daily and execute routine secuirty operation audit anytime with ease.
<Automated inspection of security policy compliance status>
Inspecting security compliance status on daily basis is such a burden to administrator. With HIBUN ME, it scans the user operation logs to identify any security threats and show in simple to understand table format. This reduces the risk of overlooking security threats and thus perform routine inspections effectively.
<Audit policy sample templates>
Make use of sample audit policy templates to execute audits immediately. Audit policy templates can be customized to meet individual corporate security policy.
<Audit summary and report>
Import inspected logs directly into sample report templates to prepare audit summary report. Customize the template and use automated import feature to create necessary security report with ease. Also convert the logs to graphs for trend analysis (Requires a thrid party application, such as MS Excel to see data in.).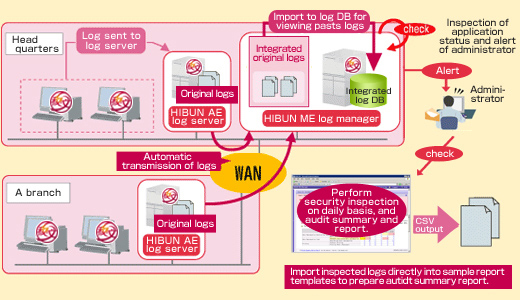 HIBUN ME Log Manager
OS
The English version of the following operation system are supported. When using Windows is 64-bit Edition, you can install HIBUN server software only in WoW64*1 mode.
Microsoft Windows Server 2012 Standard*2
Microsoft Windows Server 2012 Datacenter*2
Microsoft Windows Server 2012 R2 Standard (with Update or not)*2
Microsoft Windows Server 2012 R2 Datacenter (with Update or not)*2
CPU
Intel Pentium4 2GHz or higher
Memory
Using with one HIBUN AE Log Server: more than 2GB
Using with multiple AE Log Server: more than 4GB
HDD
More than 200MB + number of the client machinesⅹ200KB + free space to store logs
Free space for logs: for every 10,000 logs, 10MB(space required for DB (6.0MB) + original size(4.0MB))
Prerequisite Programs
Apache 2.0(2.0.52 or higher)
Apache 2.2(2.2.22 or 2.2.25)
(When Apache 2.0 is used) PHP4.4(4.4.7, 4.4.8 or 4.4.9)
(When Apache 2.2 is used) PHP 5.3.5 VC6
Microsoft .NET Framework 2.0, 3.0 or 3.5
Microsoft Visual C++ 2005 SP1 redistributable package
Microsoft Internet Explorer 7.0/8.0/9.0/10.0/11.0
Data Base(One of the following product. CPU license is required.)
Microsoft SQL Server 2005 Express Edition/Workgroup Edition/Standard Edition/Enterprise Edition
Microsoft SQL Server 2008 Workgroup/Standard/Enterprise
Microsoft SQL Server 2008 R2 Workgroup/Standard/Enterprise
Microsoft SQL Server 2012 Standard/Enterprise
HIBUN AE Server 08-01or higher
HIBUN ME Manager 10-10
*1: WoW64 mode refers to the Windows operating mode that emulates a 32-bit version of Windows on a 64-bit version of Windows.
*2: The Server Core configuration and the Minimal Server Interface configuration are not supported.